As some of you may know, April 20th is also known as 420 in some circles. It turns out that 420 this year marks the 30th anniversary of the origins of 420. On April 20 [4-20] 1977 the government Copyright Office issued an official Copyright Certificate to me for my 'Captain Cannabis' character, making it the earliest documented and verifiable correlation between 420 [April 20] and the culture.
Since Captain Cannabis is Hal Lighter's alter ego, April 20 2007 is also Hal's 30th birthday. To celebrate, Hal told me, "Dude, you just gotta do something, like throw a party. I mean, this is serious 420 time!" I'd love to throw a huge 420 party and invite the whole world, but I've decided on something a bit more modest but just as cool.
I'm giving away a 420 birthday pack, containing 1-420 signed and numbered Artist Proof, 1-regular edition 420 comic book and 1-420 DVD to one lucky individual. All you have to do to be qualified for the draw is to sign up for my newsletter, the 420 Buzz at www.okee.com or www.captaincannabis.com. If you are already signed up, you're already in the draw. The lucky winner will be contacted via email.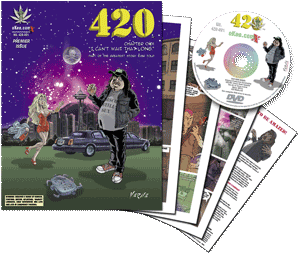 Home Page ::
VerneAndru.com
Project Page ::
oKee.com
Home of "420"